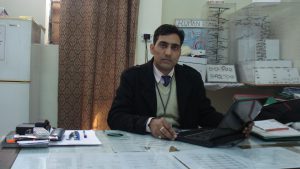 Designation
Head of Department
Total Experience(Years)
Academic: 13 Industry : 0 Research: 14.5
Qualification
Ph. D. (Microbiology), M. Phil, M. Sc. (Applied Microbiology), NET(ASRB-ICAR)
Subject Specialization
Industrial Microbiology and Biotechnology
Research Intrest
Microbe-microbe Interaction, Plant-Microbe interaction , Production and purification of Enzymes (therapeutic, pesticide and dye degrading) and PUFA from microbial sources
No. of Research Publications
36
No. of M.Tech Guided
21
Special Achievements

No. of Review articles Published : 02
No. of chapters Published in Edited Books of International Publisher : 07
No. of Research Paper Presented : 11
No. of Short term courses/workshops/trainings : 12
Invited/Guest Lectures Delivered in College and University : 02
Research and review papers reviewed of international journals : 20
Appreciated and awarded for quality review by British Microbiology Research Journal
Appointed as an Academic Editor ('elite club of SDI editors') of the British Microbiological Research Journal (BMRJ) published by Science Domain International, USA.
Member of editorial Board of National and International Journals
Principal Investigator of the Research project "Monoclonal Antibody production" approved by CPCSEA, New Delhi.
Member of Board of Studies (KUK).
IAEC Chairman cum Biological scientist of other Biological Discipline approved by CPSCEA.
Organized: Two week Faculty Development Programme on the topic "Biotechnology: Past, present and future".
Chairman cum Scientis from different Biological Discipline(Institutional Animal Ethical Committee (IAEC).
Welcome to the department Biotechnology Engineering, the home of learning theoretical and practical aspects of biotechnology since 2002. The department offers B. Tech and M. Tech Degree in Biotechnology Engineering and is actively engaged in research in all fields of Biotechnology such as cell, tissue culture, microbial technology, Diagnostics, Bioinformatics, plant and animal Biotechnology, New drug discovery and development. The department has well qualified and experienced faculty members. The department has a well established research centre namely Advanced Biotech Engineering Centre (ABEC) for Downstream Processing and Hybridoma technology research. Our goal is to create capable young researchers/teachers/entrepreneur with great thirst for knowledge and scientific curiosity. We provide education that is holistic and trains students with life skills, which make them job provider but not job seeker. You are welcome to browse our website for more information or contact us for more detail.