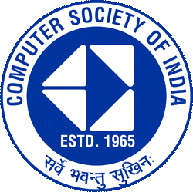 Commenced on 6 March 1965 by a few computer professionals, a nonprofit professional society emerged and was acknowledged as the Computer Society of India. The CSI represents the face of young innovative minds threaded together to barter views and information as well as to learn and share new ideas. The mission of CSI is to Facilitate Research and Knowledge Sharing among all categories of IT professionals; assist students to integrate into the IT community proficiently; infiltrate benefits of IT advancement to all sections of Indian Society.
Our institution is also a proud member of CSI since 2013. To bolster the mission and vision of the society, our college students allied with their respective faculties have devoted their time and effort to conduct several technical events. These events aid the member students as well as the non-member students to kindle their intellect, innovation and brushes up their technical soundness. To name a few events , we routinely organize Hackathon, online gaming, technical quiz, coding competitions, aptitude tests, technical GDs, treasure hunt, etc.
COMPUTER SOCIETY OF INDIA

Content
Download
CSI Comittee Members 2018-19
CSI Comittee Members 2017-18
CSI Comittee Members 2016-17
EVENTS AND SEMINARS CONDUCTED
SESSION 2016-17
An attempt to provide a platform to gain knowledge of current affairs and improve public speaking skills of students was made in the form of "ACEMUN-MOCK UNITED NATIONS" on 27th January 2016 for which a JAM session was conducted as a screening on 7th October 2016.
A competition "BRAIN DRAIN" which was a combination of General Knowledge and fun riddles was organised on 17th February 2017.
A "C PROGRAMMING CONTEST" was held on 11th April 2017 in two rounds: Prelims and Main round.
SESSION 2015-16
The first event of the session "FACT MAZE" was organised on 11th September 2015 as a series of five rounds: General knowledge, Technical skills, Entertainment, facts about College and Observation respectively.
On the occasion of Engineer's day, a "CODING CONTEST" was held on 15th September 2015.
A pleasurable game "TAMBOLA" was planned on 19th October 2015 on the occasion of Annual Science and Technology Fair which was open for participation of everybody including students, staff and guests and winners were awarded with cash prizes.
Aimed at bringing out the best of students' public speaking skills, a group discussion "DISCUSSION DE GROUPE" was prearranged on 6th November 2015.
To make students interview ready, an "APTITUDE TEST" was organised on 1st February 2016.
Another "APTITUDE TEST" was organised on 20th February 2016 to make students aware of the importance of aptitude building.
The third instalment of "APTITUDE TEST" took place on 11th March 2016.
A coding marathon "CODE-A-THON" took place on 1st April 2016 to improve the coding skills of students.
SESSION 2014-15
To test the programming skills of students "CODENINJA" was organised on 17th April 2014.
A "C PROGRAMMING" contest was organised on 15th September 2014 for which a screening test was arranged on 6th September 2014.
To enhance the overall capabilities of a student, a test comprising of three levels: Aptitude Test, Logical Reasoning and Verbal Ability was organised on 11th October 2014, 18th October 2014 and 1st November 2014 respectively.
A competition "FACT AND FURIOUS" which was a combination of General Knowledge and fun riddles was organised on 28th February 2015.
A fun activity for the students "TREASURE HUNT" was ordered on 4th April 2015 with a huge prize amount of Rs. 2000.